TUNES
Here are the tunes from our first CD. Take a listen. If you like, buy the CD!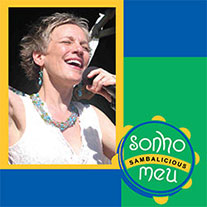 Axé de Ianga (Pai Maior)
Dona Ivone Lara
Alguém Me Avisou / Devagar, Devagarinho
Dona Ivone Lara / Eraldo Divagar
Chovendo Na Roseira
Antonio Carlos Jobim
Eu Só Quero Um Xodó / Baião
Dominguinhos & Anastácia / Luiz Gonzaga & Humberto Teixeira
Tiro Ao Álvaro
Adoniran Barbosa & Oswaldo Moles
Tropicana
Alceu Valença
Toque De Timbaleiro
Nem Cardoso
Corrida de Jangada
Edu Lobo & Capinam
É Hoje
Didi e Maestrinho
G.R.E.S. União Da Ilha Do Governador (1982)
To purchase our CD using PayPal, please click here:
Prefer to pay by check? Please click on Contact to let us know. We'll send you payment details.